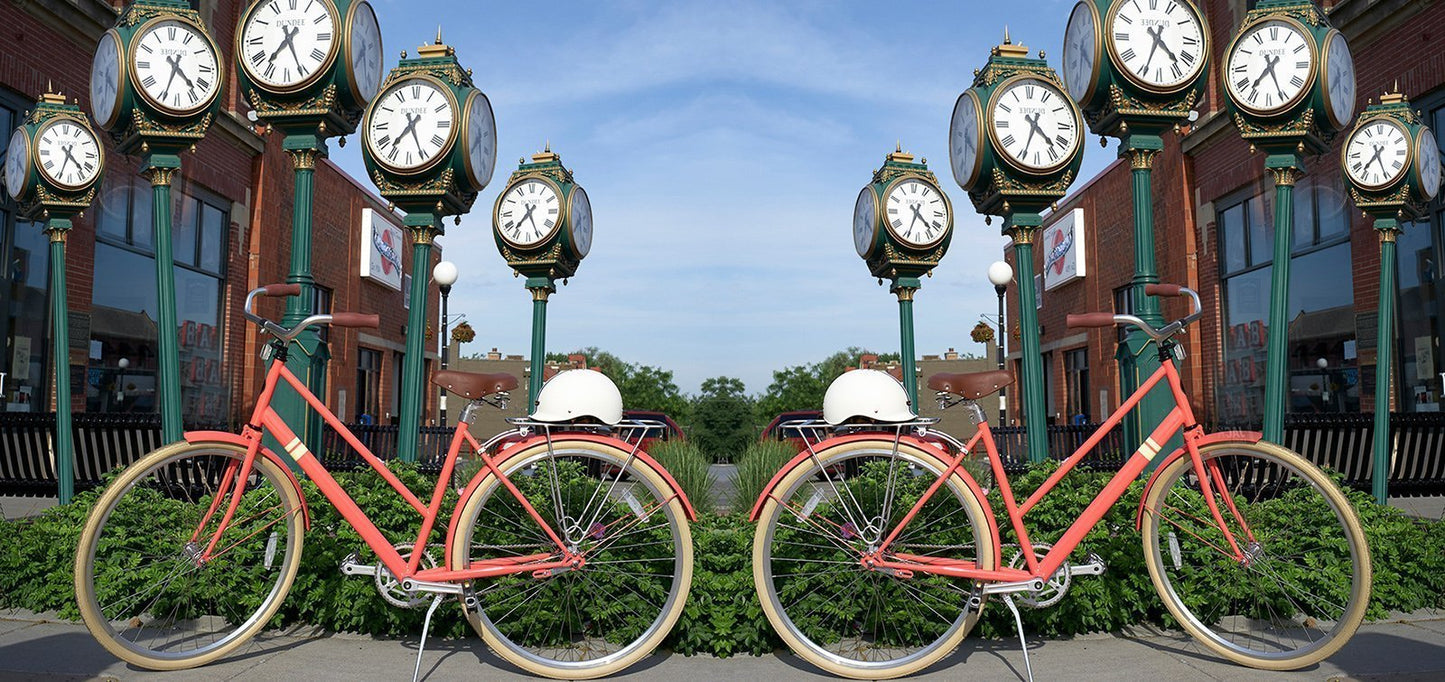 Cruising USA: Omaha
The eighth installment of our Cruising USA series hits the midwestern city of Omaha, NE behind the lens of Laurie Victor Kay. 
"Riding the Rose Dutchie by Solé around Omaha with my Leica allowed me to be a tourist in my own city. I've always loved the freedom I've felt on bikes. Omaha is a city that often surprises those who think of it as all cornfields and country roads. People are often shocked by how cool Omaha is. There is a rich arts, music, and food scene, many old buildings, and growing urban changes to accommodate more bikes and pedestrians. People are so nice and down to earth here which is a breath of fresh air. "
"I've worked on a fine art series titled Kaleidoscope since 2008 and knew immediately it would be so much fun to approach the Rose Dutchie in its Omaha locations this way. I'm strongly influenced by Cubism, and have continually been inspired by making escapist spaces that are supersatured/hyperreal. My love of graffiti and the underground also weaved its way into these works. I am drawn to public spaces, ever-changing visual feasts of movement, life, structure and rhythm." 
I loved having the chance to show off Omaha for Solé, a company that we discovered years ago when looking for the perfect bike for our son Miles in 2011, a bright green perfectly designed and well-priced bike to get around Omaha on.
Laurie Victor Kay Bio:
Laurie Victor Kay is an artist whose work is strongly influenced by journeys, movement, public spaces and travel. While Omaha, Nebraska may be her home, she's often in LA, Paris, NY, and Thailand. Laurie's boundless creative energy imbues her visual world. She loves to run with her rescued lab Scout, do yoga, ski, surf 'small waves', cook, paint, read, and (of course) ride her bike.
Laurie studied photography and painting at the School of the Art Institute of Chicago and Columbia College. Her artistic career has spanned twenty years and her large-scale color photographs are in collections throughout the United States. A recent artistic collaboration with Jim Thompson Thai Silk Company blurred her love of street style and fashion.
In addition to her career as a fine artist, she works with her husband Charles collaboratively on commercial projects. A shortened client list includes Condé Nast, Travel and Leisure, NY Times, Tiger Woods, Accenture, 1800 Tequila, Rosewood Hotels, American Red Cross, Nike, Hasbro, Smithsonian, Titleist and many more.